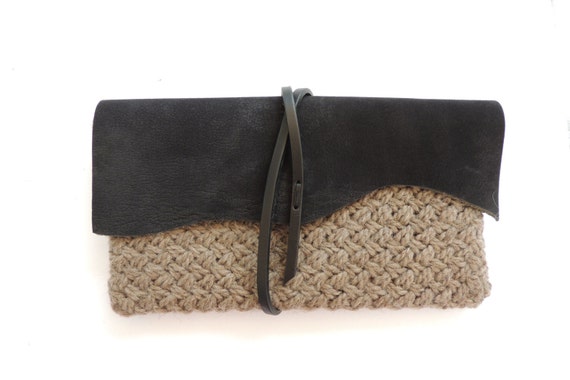 Early in 2015, back in Montreal, my friend Desiree invited me to work on a new project with her. She was launching a brand of leather bags and goodies, and she asked me to work with her on a design for a knitted pouch. Her idea was to combine yarn and leather in a unique design. So here is the fruit of this collaboration, a nice little clutch with a simple yet striking stitch pattern. It is big enough to fit your essential items.
Début 2015, à Montréal, mon amie Désirée m'a invité à travailler avec elle sur un nouveau projet. C'est une créatrice talentueuse de sacs en cuir et d'accessoires qui était de développer sa marque, et elle m'a demandé de concevoir avec elle une pochette tricotée. Son idée était de combiner laine et cuir dans un design unique. Voici donc le fruit de cette collaboration, une jolie pochette avec un motif simple mais qui fait son effet. La pochette est assez grande pour transporter tout le nécessaire.
https://instagram.com/p/6Sl1IdPJ6q/
We had a vision of a warm place selling all our favorite yarn and leather related items, with possibly a coffee shop nearby, a big table for craft sessions and lots of idea for nice kits blending yarn and leather, hence the name of Cafe Cuir.  I decided to stop the collaboration a few months in the project as I was not well enough at the time to continue. I felt guilty about it for a long time though, which is the reason I did not share this earlier. Which is silly, I know. Then I moved back to France while she stayed in Montreal. I still have fond memories of spending time in her studio, trying out samples in different colors and dreaming of big projects while the snow was gently falling outside. And I did not want to go through another winter without sharing this lovely work.
Nous avions la vision d'un endroit chaleureux ou vendre laine et cuir, avec si possible un petit café à côté, une grande table pour des ateliers et pleins d'idées pour des kits mélangeant laine et cuir, d'où le nom de Café Cuir. J'ai décidé de cesser la collaboration après quelques mois parce que je n'allais pas suffisamment bien alors pour continuer. Je me suis sentie longtemps coupable, c'est sans doute pour cela que j'ai tant tardé à vous en parler. C'est idiot, je sais. Puis je suis rentrée en France. J'ai toujours de bons souvenirs du temps passé dans son studio de Montréal, où nous testions les différents échantillons de couleurs en rêvant à nos projets pendant que la neige tombait au-dehors. Et je ne voulais pas passer un nouvel hiver sans vous partager ce joli travail.
https://instagram.com/p/_mmhPhvJ4p/
This kit is complete. Desiree chose a nice yarn (several hues to choose from), the leather cover, and everything you need to produce a chic accessory that really works: a sturdy lining covered in a satin fabric to make sure your all pretty items stay nicely tucked in, a leather needle and the leather thread for a superb and unique finishing.You can find this lovely pouch in her Etsy store, and it would be make a pretty gift for a knitter who loves cute accessories. No need to be an sewing expert though.  I was able to assemble an entire clutch on my own, and I'm far from being an accomplished seamstress.
Ce kit est complet. Désirée y a mis une jolie laine (plusieurs teintes à choisir), le rabat de cuir et tout ce qu'il faut pour créer un accessoire vraiment pratique : une doublure solide recouverte d'un tissu satiné noir, une aiguille à cuir et le fil de cuir pour les finitions uniques. Vous trouverez cette jolie pochette dans son magasin Etsy, et ce serait un joli cadeau pour un amateur de tricot et de beaux accessoires. Pas besoin d'être expert en couture non plus. J'ai été capable de monter la pochette au complet et je suis loin d'être une couturière avertie.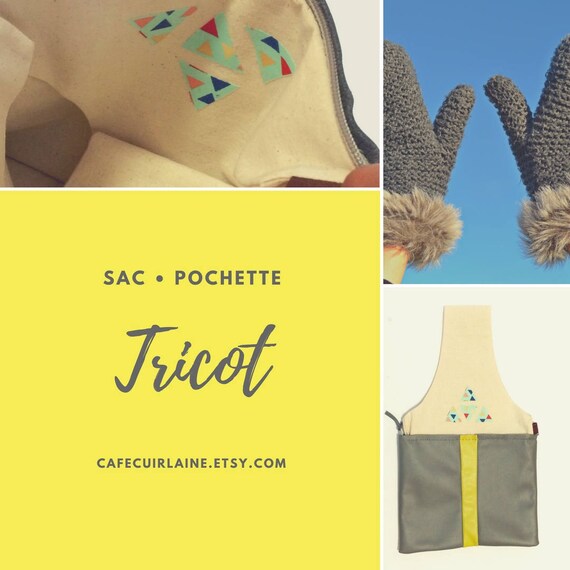 Check out her Etsy shop, where she not only sells this pretty kit but other goodies like a pouch that would be a neat project bag, and a kit to make lovely baby leather booties.
Allez jeter un oeil sur sa boutique Etsy, où elle vend non seulement ce joli kit mais d'autres accessoires sympas comme cette pochette qui peut tenir votre projet tricot, ou d'adorables bottines pour bébé et d'autres petits objets en cuir.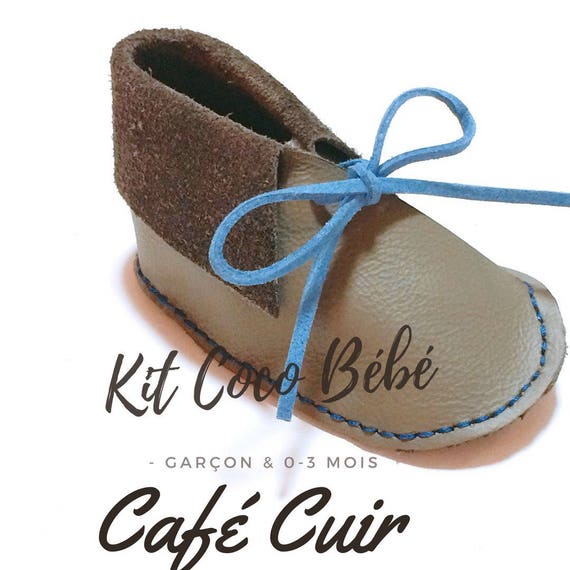 Until end of December, Desiree kindly offers a 20% discount on her whole shop with the code: READYTOKNIT. Please note that it is shipping from Canada.
Jusqu'à fin décembre, Désirée vous offre une réduction de 20% sur toute sa boutique avec le code: READYTOKNIT. Veuillez noter que les articles sont expédiés depuis le Canada.